Remote HEDIS Jobs for RNs, LPNs, and Medical Assistants.
Nurses and Medical Assistants, are you ready to join us? Let's get you started today!
HEDIS work from home;

This HEDIS Data Abstractor course is for Nurses and Medical Assistants:

HEDIS is how health insurance companies get accredited. You can visit the NCQA website for more information, it is a quality assurance program. If you are trying to get a very flexible job, HEDIS is it. This HEDIS data abstraction course is through Remote Learning Services, LLC by Marie Peppers, LPN.
You can now buy this course separately from our Care Manager program.
Start today - Access to course right away!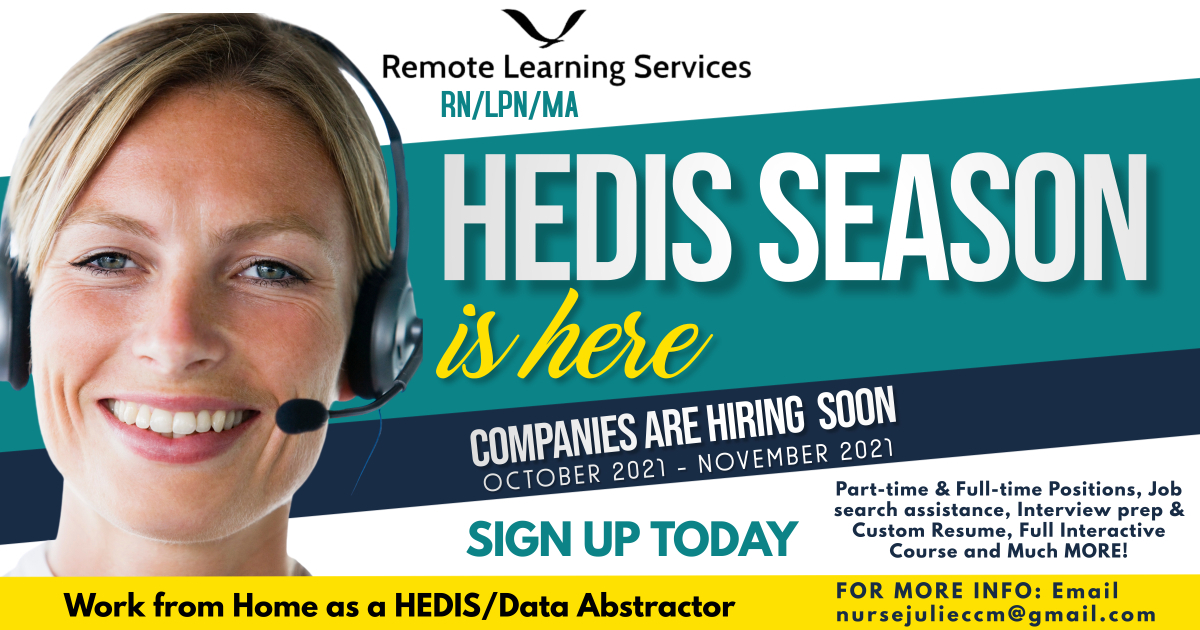 What is needed?
type at least 20 words a minute, internet connection
Good computer skills
Must be currently a licensed RN/LPN/LVN or Medical Assistant
Must own a computer or laptop computer- You can not do this on your phone.
Strong organizational skills
Quiet space to work - so you can concentrate.
1-year access to our material - this is work-at-your-own-pace
Flexible hours as you can work at your own pace

Class is broken down into learning segments:

Virtual classes with a slide show PowerPoint presentation ( Recorded)
Reading and writing assignments - homework
Case Scenarios with practice
Individual worksheets/charts, you self correct
Class Discussions / zoom meetings (3) ( recorded)
Guided research - Case Examples - Video instruction ( recorded)
Job assistance and Free Resume Course - We give you loads of jobs to apply to. We get you ready to shine!

A certificate of Completion will be presented to participants upon successful completion of this 10-hour HEDIS Data Abstraction Course for RNs, LPNs, MAs

The course is for the 2021/2022 HEDIS season.
HEDIS® is a registered trademark of the National Committee for Quality Assurance (NCQA)

Remote Learning Services, LLC is not associated with NCQA.

Remote Learning Services, LLC 2021